Millwork Shop Drawings
Are you a contractor who needs millwork shop drawings? If yes, then I can help you.
Introduction
My name is Brian M. Curran. Since 2007 I've run my drafting service business in NYC.
I have great People, a great Process, and a great Product. Let me explain a little about each.
My People Who Will Serve You
I have two drafters who specialize in casework shop drawings. We know the woodwork industry.
My senior millwork drafter has 15+ years of experience as a casework engineer. My second casework engineer has years of experience.
To date we've completed a number of projects around the US, including bathrooms, cabinets, kitchens, libraries, media centers, reception desks, retail displays and home theaters.
My Process That Will Make Your Life Easy
As the manager of my shop drawing team I understand that you as a contractor are looking for certain traits from your drafting service. You want a service provider who will:
Promptly answer your calls and emails, is reliable, is orderly, will give you realistic drawing delivery dates, has been around for years, has the experience you need, communicates well, and has more than one detailer so you're not left waiting in a long line.
I can provide you with this level of service.
My Drawings (i.e. my "Product" mentioned above) That Will Make Your Projects Succeed
We create millwork shop drawings for commercial and residential projects. We know hardware specifications, appliances, material sizes, typical patterns (For instance - did you know that there are about 42,500 different options for raised panel doors.), and etc. So the knowledge my team has will help make your projects successfully.
Sample Drawings
My team is finishing drawings weekly. If you visit the draftingservices.com Instagram profile, then you will see some current millwork drawing samples mixed amongst other types of projects.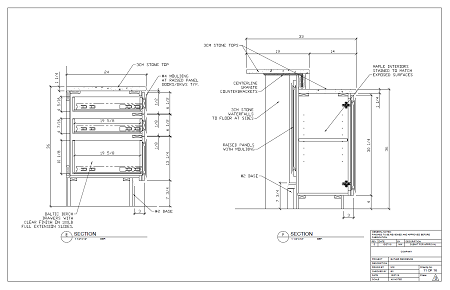 Here is a millwork shop drawing sample in PDF format. The drawings were drafted in AutoCAD ®. Click image to launch PDF.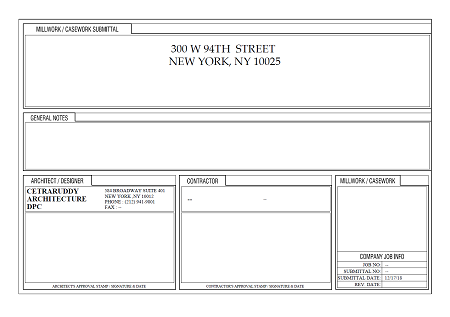 Here is another casework shop drawing sample in PDF format. It includes numerous kitchens. Click image to launch the multi page PDF.
Contact
As I said at the start, I have great People, a great Process, and a great Product. I believe my drafting services could be a valuable assitance to your business.
Why don't you make your life easier by choosing to use draftingservices.com as your drafting service? Let me put my People, Process, and Product to work for you.
If you need woodworking shop drawings, then please call me now at: 718.441.3968. Or email me now at: brian@draftingservices.com
Clients Have Commented
... Thank you many many times for completing all this work so fast. Jay E. Butler, PE, February 26, 2009
... with all the great work you have done for us. Nolan R. Rogers, Turner Construction Company, April 8, 2010
... Thanks for the fast work. Adele Finer, AIA, LEED AP, July 28, 2010