Structural Drafting
Structural drafting is the craft of turning an Engineer's structural design calculations and design sketches into contract drawings. Structural contract drawings are the bridge between an Engineer's design and a Contractor who will build the design.
(Note: Contract drawings are also known as design drawings or engineering drawings.)
As mentioned above, structural drawings typically start from rudimentary hand sketches that are associated with structural design calculations, which are in accordance with local and national building codes. It is from such sketches that presentation quality structural drawings are created.
For any given structural project the contract drawings could be drafted by one of a few different persons. For instance, the Structural Engineer who performed the structural design calculations could do all the structural drafting work himself. Alternately, all of the drafting work could be done by a structural drafting CAD Technician.
The Craft
There is definitely a knack to structural drafting, as there is with most any other discipline of drafting. This is why structural drafting was referred to earlier as a craft. A craft is the skilled practicing of an occupation.
Structural drawings have a certain look and feel to them, which is called line work. Line work could include a drawing's dimension styles, font styles, leader styles, scale of details, title block style, and symbols, including: column bubbles, detail markers, elevation markers, section markers, and structural shapes.
To become competent in creating well formatted structural design drawings one would need hands-on experience (i.e. on-the-job training), a good training course, or possibly sample drawings to study and mimic. Perhaps the best way to learn structural drafting is through hands-on experience, as either an entry level CAD Technician or as a Junior Engineer.
Samples
Click on the image below.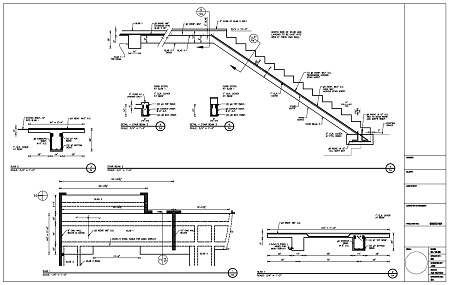 Structural drafting sample.
Contact
If you need structural drafting work done, then please feel free to call today to discuss your project with the New York City based Consultant Brian M. Curran. Call now at: 718.441.3968 or email at: brian@draftingservices.com
Clients Have Commented
... Thank you many many times for completing all this work so fast. Jay E. Butler, PE, February 26, 2009
... with all the great work you have done for us. Nolan R. Rogers, Turner Construction Company, April 8, 2010
... Thanks for the fast work. Adele Finer, AIA, LEED AP, July 28, 2010